hello,
are there any GARBAGE PAIL KIDS fans present tonight? i've still got a lot of organizing to do, but i have HUNDREDS of cards, and i know for a fact that there's at least ONE COMPLETE SET in there, because i put them all in order when i was much younger, and completed the whole series -- two of each picture, but different names under "a" or "b" -- at least once. as for doubles... who knows. my grandmother owned a candy store!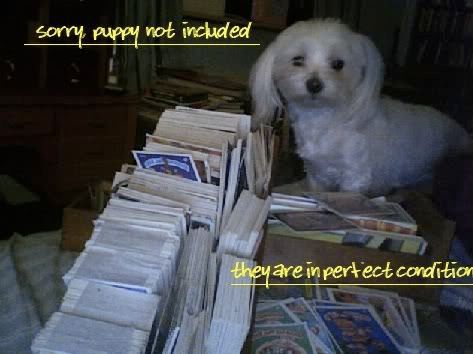 of course i'll catalog everything and let anyone who's interested know exactly what's here, this is just to show you i mean business. ;)

comment or email me!


ps cheap

$6 each, SHIPPED or 5 FOR $20. in any combination, any format. first comment, first served. hope you find something you like. I'LL LISTEN TO OFFERS FOR THESE AS WELL IF YOU HAVE SOMETHING IN MIND, TRY ME!! :)

sahara hotnights - kiss and tell
clueless soundtrack
xtc - upsy daisy assortment
handsome boy modeling school - white people
ballboy - club anthems
boss hog - s/t (no booklet)
austin powers soundtrack
ida - will you find me
longwave - endsongs
trembling blue stars - broken by whispers
devon green - don't monkey with the monkey's monkey
the mambo kings soundtrack
joss stone - mind, body, and soul
the microphones - song islands
supergrass = s/t
the operacycle - warmer (members of the thermals)
lamb - what sound (includes dvd)
music from the motion picture "scratch" (lots of good hip-hop, here's the tracklist)
fila brazillia - another late night (one in a series of chill-out mixes by different groups, ask if you want to know the tracklist)
chromeo - she's in control
metropolitan - down for you is up
fiery furnaces - EP
super furry animals - rings around the world
lock stock and two smoking barrels soundtrack
johnathan rice - trouble is real (no book)


buffalo 66 VHS
what women want VHS
home alone VHS
grease VHS
pretty woman VHS
mtv's the real world you never saw VHS
mtv's real world las vegas: the shit they should've shown VHS
mtv's the real world decade of bloopers VHS


DVD:
mean girls
reefer madness

these don't have the box/book (i'll mail it in a blank one, of course):
memoirs of a geisha
sex and the city season 3 (2 disc set)
are also awesome, and involve much less snot and puking and diapers. how charming! thanks for looking!

x-posted EVERYWHERE! cheers.